HOUSE ELEMENTS By Junior D
TRACKLIST
01. Imany – Don't be so Shy (PanosG Remix)
02. Purple Disco Machine – Song For O (Original Mix)
03. Mousse T., Boris Jennings – Brother On The Run (The Reflex Remix)
04. Purple Disco Machine – YO (Original mix)
05. Gregory Porter – Liquid Spirit (Claptone Remix)
06. Simion, MD X-Spress – God Made Feel It (Claptone Edit)
07. Disclosure feat Sam Smith – Omen (Claptone Remix)
08. Millok + New5ense – Let It Go (Original Mix)
09. Zsak – Magic (Original Mix)
10. Boris Dlugosch, Purple Disco Machine – Set It Out (Original Mix)
11. David Penn – Those Days (Original Mix)
12. Dantiez Saunderson & KPD – Place Called Home (Original Mix)
13. Simon Adams & Stefano Mango – Saxophone (Original Mix)
LINK :
http://www111.zippyshare.com/v/4HJ3oozf/file.html
Pacific Classic Dance Mix 2010
TRACKLIST
01.Intro
02.Moloko – Sing it back
03.The Shapeshifters – Lolas theme
04.A Studio feat Polina – SoS
05.Black Legend – You see the trouble with me
06.The Ones – Flawless
07.Gramophonedzie – Why dont you
08.Residence Deejays feat.Frissco – Sexy Love
09.David Guetta feat Estelle – One love
10.Bob Sinclar Feat.Steve Edwards – World hold on
11.Milk and Sugar feat.Gary Nesta – Let the sunshine
12.Yves Larock – Zookey
13.Ultra Nate – Free
14.Edward Maya & Vika Jigulina – Stereo love
15.Dennis ferrer – Hey Hey
16.Snap vs Funkerman – Power Speed Up
17.Mainstream feat. Sasha David – Lick it
18.Sasha Survivor – Eye Of The Tiger 2010
19.Eagles – Hotel California (Latino Summer Mix 2010 )
20.Wonderland Avenue – White horse
21.Booty Luv – Boogie tonight
22.Tony Martinez feat.Estela Martin – Your loving arms
23.Keri Hilson – I like Bootleg Mix
24.Stromae – Alors On Danse (Sean Finn Remix )
25.Tom Novy – Your body
26.David Vendetta feat. Akram – Unidos para la musica
27.David Tavare – Summerlove
28.Benny Benassi – Satisfaction (La Fuente Remix 2010)
29.The Drill – The Drill
30.Kings Of Leon – Sex On Fire (Richard & Peter Remix)
31.Different Gear vs Sia – Drink to get drunk
32.Mylo Vs Miami Sound Machine – Doctor pressure
33.Corona – Rhythm of the night (electro flo rida remix)
34.Ice Mc – Its A Rainy Day 2010 (Luengo & Diaz Remix)
35.Laurent Wolf – No stress
36.Spagna – Call Me (Nicola Fasano & Steve Forest Radio Rmx)
37.Jerome Ismae – Hold that sucker down
38.Pakito – Living on video
39.Da Hool – Meet her at the love parade
40.Buzzy Bus – You don't stop
41.In-Grid – Tu es foutu
42.ATB – don't stop
43.Delerium – Silence (airscape remix)
44.Future Breeze – Why dont you dance with me
45.Tiesto – Love comes again
46.Faithless –  We come one
47.Carlos – The silmarillia
48.BBE – Seven days & one week
49.Southside Spinners – Luvstruck
50.Lasgo – Something
51.Cascada – Everytime we touch
52.Outro
(  Mixed & Compiled By Dj Kosta  )
LINK :
ONE NIGHT IN DISCOTHEQUE VOL.4 ( By Dj Kosta )
TRACKLIST

01.Intro
02.Genesis – That's All
03.Michael Jackson – You Rock My World
04.Taco – Puttin' On The Ritz
05.Piano Fantasia – Song For Denise
06.Silver Convention – Fly Robin Fly
07.Silver Convention – Get Up And Boogie
08.Belle Epoque – Miss Broadway
09.Savage – Only You
10.Gazebo – I like Chopin
11.Modern Talking – Brother Louie
12.Matthew Wilder – Break My Stride
13.Queen – Another One Bites The Dust
14.Indeep – Last Night A DJ Saved My Life
15.Rex Abe – I Can Feel It
16.Spagna – Easy Lady
17.Rockers Revenge Feat.Donnie Calvin – Walking On Sunshine
18.Duran Duran – Wild Boys
19.Grandmaster & Melle Mel – White Lines (Don't Don't Do It)
20.Break Machine – Street Dance
21.Eartha Kitt – Where Is My Man
22.Kim Wilde – You Came
23.Maria Vidal – Body Rock
24.Culture Club – Miss Me Blind
25.The Jacksons & Mick Jagger – State Of Shock
26.The Michael Zager Band – Let's All Chant
27.Eruption – One Way Ticket
28.Laid Back – White Horse
29.Raffaella Carra – A Far L'amore Comincia Tu
30.Madleen Kane – Cherchez Pas
31.Earth Wind & Fire – September
32.Dead or Alive – You Spin Me Around Like a Record
33.Miquel Brown – So Many Men, So Little Time
34.Chic – Everybody Dance
35.Boys Town Gang – Cant Take My Eyes Off You
36.The Trammps – Disco Inferno
37.Vickie Sue Robinson – Turn The Beat Around
38.Communards – Don't Leave Me This Way
39.Evelyn Champagne King – Shame
40.La Flavour – Mandolay
41.Michael Jackson – Beat It

( Mixed & Compiled By Dj Kosta )
LINK :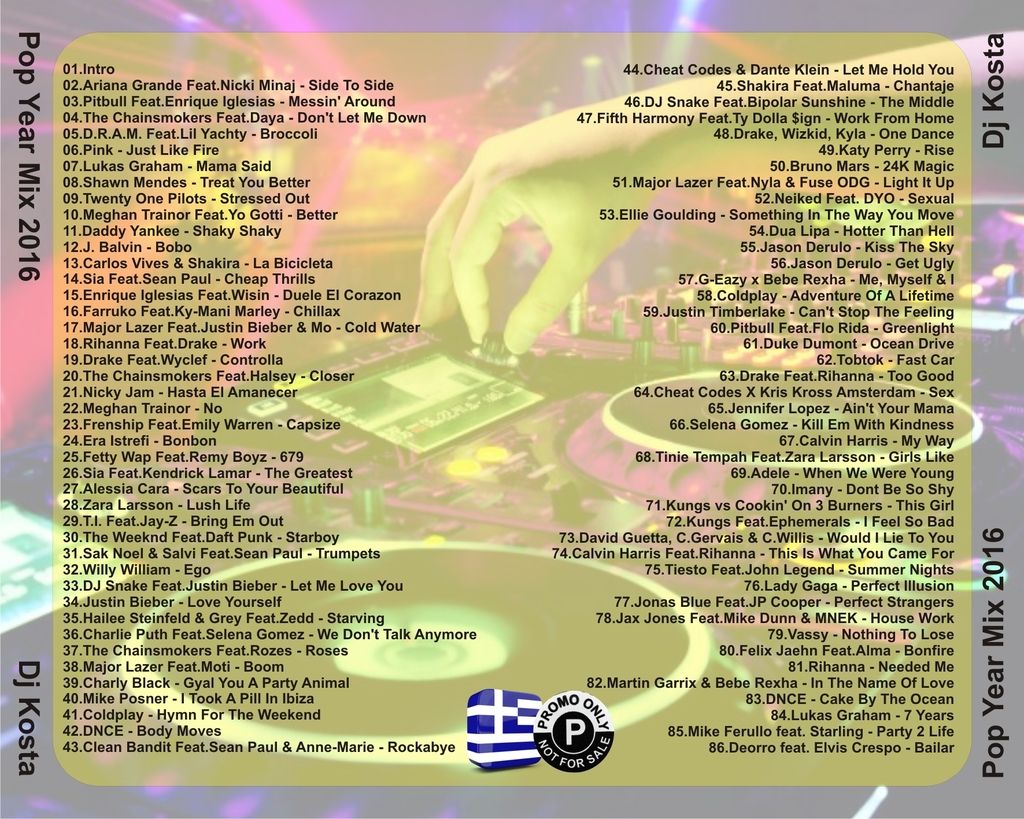 POP YEARMIX 2016 ( By Dj Kosta )

TRACKLIST

01.Intro
02.Ariana Grande Feat.Nicki Minaj – Side To Side
03.Pitbull Feat.Enrique Iglesias – Messin' Around
04.The Chainsmokers Feat.Daya – Don't Let Me Down
05.D.R.A.M. Feat.Lil Yachty – Broccoli
06.Pink – Just Like Fire
07.Lukas Graham – Mama Said
08.Shawn Mendes – Treat You Better
09.Twenty One Pilots – Stressed Out
10.Meghan Trainor Feat.Yo Gotti – Better
11.Daddy Yankee – Shaky Shaky
12.J. Balvin – Bobo
13.Carlos Vives & Shakira – La Bicicleta
14.Sia Feat.Sean Paul – Cheap Thrills
15.Enrique Iglesias Feat.Wisin – Duele El Corazon
16.Farruko Feat.Ky-Mani Marley – Chillax
17.Major Lazer Feat.Justin Bieber & Mo – Cold Water
18.Rihanna Feat.Drake – Work
19.Drake Feat.Wyclef – Controlla
20.The Chainsmokers Feat.Halsey – Closer
21.Nicky Jam – Hasta El Amanecer
22.Meghan Trainor – No
23.Frenship Feat.Emily Warren – Capsize
24.Era Istrefi – Bonbon
25.Fetty Wap Feat.Remy Boyz – 679
26.Sia Feat.Kendrick Lamar – The Greatest
27.Alessia Cara – Scars To Your Beautiful
28.Zara Larsson – Lush Life
29.T.I. Feat.Jay-Z – Bring Em Out
30.The Weeknd Feat.Daft Punk – Starboy
31.Sak Noel & Salvi Feat.Sean Paul – Trumpets
32.Willy William – Ego
33.DJ Snake Feat.Justin Bieber – Let Me Love You
34.Justin Bieber – Love Yourself
35.Hailee Steinfeld & Grey Feat.Zedd – Starving
36.Charlie Puth Feat.Selena Gomez – We Don't Talk Anymore
37.The Chainsmokers Feat.Rozes – Roses
38.Major Lazer Feat.Moti – Boom
39.Charly Black – Gyal You A Party Animal
40.Mike Posner – I Took A Pill In Ibiza
41.Coldplay – Hymn For The Weekend
42.DNCE – Body Moves
43.Clean Bandit Feat.Sean Paul & Anne-Marie – Rockabye
44.Cheat Codes & Dante Klein – Let Me Hold You
45.Shakira Feat.Maluma – Chantaje
46.DJ Snake Feat.Bipolar Sunshine – The Middle
47.Fifth Harmony Feat.Ty Dolla $ign – Work From Home
48.Drake, Wizkid, Kyla – One Dance
49.Katy Perry – Rise
50.Bruno Mars – 24K Magic
51.Major Lazer Feat.Nyla & Fuse ODG – Light It Up
52.Neiked Feat. DYO – Sexual
53.Ellie Goulding – Something In The Way You Move
54.Dua Lipa – Hotter Than Hell
55.Jason Derulo – Kiss The Sky
56.Jason Derulo – Get Ugly
57.G-Eazy x Bebe Rexha – Me, Myself & I
58.Coldplay – Adventure Of A Lifetime
59.Justin Timberlake – Can't Stop The Feeling
60.Pitbull Feat.Flo Rida – Greenlight
61.Duke Dumont – Ocean Drive
62.Tobtok – Fast Car
63.Drake Feat.Rihanna – Too Good
64.Cheat Codes X Kris Kross Amsterdam – Sex
65.Jennifer Lopez – Ain't Your Mama
66.Selena Gomez – Kill Em With Kindness
67.Calvin Harris – My Way
68.Tinie Tempah Feat.Zara Larsson – Girls Like
69.Adele – When We Were Young
70.Imany – Dont Be So Shy
71.Kungs vs Cookin' On 3 Burners – This Girl
72.Kungs Feat.Ephemerals – I Feel So Bad
73.David Guetta, C.Gervais & C.Willis – Would I Lie To You
74.Calvin Harris Feat.Rihanna – This Is What You Came For
75.Tiesto Feat.John Legend – Summer Nights
76.Lady Gaga – Perfect Illusion
77.Jonas Blue Feat.JP Cooper – Perfect Strangers
78.Jax Jones Feat.Mike Dunn & MNEK – House Work
79.Vassy – Nothing To Lose
80.Felix Jaehn Feat.Alma – Bonfire
81.Rihanna – Needed Me
82.Martin Garrix & Bebe Rexha – In The Name Of Love
83.DNCE – Cake By The Ocean
84.Lukas Graham – 7 Years
85.Mike Ferullo feat. Starling – Party 2 Life
86.Deorro feat. Elvis Crespo – Bailar

( Mixed & Compiled By Dj Kosta )
LINK :
ONE NIGHT IN DISCOTHEQUE VOL.3 ( By Dj Kosta )

TRACKLIST

01.Intro
02.Monyaka – Go Deh Yaka Go
03.Milli Vanilli – Girl You Know It's True
04.Culture Club – Do You Really Want To Hurt Me
05.Den Harrow – Mad Desire
06.N-Trance – Stayin' Alive
07.Lian Ross – Say Youll Never
08.RAF – Self Control
09.Saphir – Shot In The Night
10.The Sugarhill Gang – Rappers Delight ( intro )
11.Diana Ross – Upside Down
12.The Sugarhill Gang – Rappers Delight
13.Philip Bailey – Woman
14.Snap – The Power
15.KC & The Sunshine Band – That's The Way
16.Kurtis Blow – The Breaks
17.Simple Minds – Don't You Forget About Me
18.Talk Talk – Such a Shame
19.Paul Sharada – Dancing All The Night
20.16 Bit – Where Are You
21.Kasso – Walkman
22.Chic – Le Freak
23.Brothers Johnson – Stomp
24.Amanda Lear – Enigma (Give a Bit of mmm to Me)
25.Falco – Der Kommissar
26.Bryan Ferry – Let's Stick Together
27.Mito – Droid
28.Fancy – Bolero
29.Hypnosis – Pulstar
30.Rick James – Give It To Me Baby
31.KC & The Sunshine Band – Give It Up
32.Kim Wilde – You Keep Me Hangin' On
33.Bobby O – She Has A Way
34.M & H Band – Pop Corn
35.Bee Gees – You Should Be Dancing
36.Rockwell – Somebody's Watching Me
37.Cutting Crew – I Just Died In Your Arms
38.Irene Cara – Flashdance (What A Feeling)
39.The Twins – Face To Face, Heart To Heart
40.Men At Work – Who Cant it Be Now
41.Trans X – Living On Video
42.Lime – Unexpected Lovers
43.Sylvester – You Make Me Feel ( Mighty Real )
( Mixed & Compiled By Dj Kosta )
LINK :
http://www59.zippyshare.com/v/jt5wnTPP/file.html
COVERS + TEXT :
http://www27.zippyshare.com/v/xKdU7sKN/file.html
ACOUSTICA VOL.11 ( Classics Edition 2 ) By Dj Kosta
TRACKLIST

01.Intro
02.Motels – Footsteps ( Dub )
03.Trumains – Ripe For The Pickin
04.Pharrell Williams – Freedom
05.Shoody – Tokyo Melody
06.Alec R. Costandinos – Quasimodo's Marriage
07.Soul Jazz Unit – Need Your Funk
08.Jamestown Feat.Jocelyn Brown – She Got Soul
09.Enigma – Mea Culpa
10.Bob Marley & The Wailers – I Shot The Sherriff (Rmx)
11.Ahmed Fakroun – Nisyan
12.Al Green – Let's Stay Together
13.Cashmere – Love Is What I Want
14.Bar Blue – A Turn of Ride
15.Paul Simon – 50 Ways To Leave Your Lover
16.Arnie's Love – I'm Out Of Your Life
17.Adele – Hello (Rmx)
18.Elvis Presley – I Got A Feeling In My Body
19.David Mc.Williams – The Days Of Pearly Spencer
20.Otis Redding – Wonderful World (Rmx)
21.Jestofunk – Theme from JFK
22.William DeVaughn – Be Thankful For What You've Got
23.Cymande – Brothers On The Slide
24.Major Lazer – Lean On (Rmx)
25.Frankie Valli – Grease
26.Luther Vandross – Never Too Much
27.Michael Jackson – Rock With You
28.Fleetwood Mac – Dreams
29.Jayne Mansfield – Suey
30.Aquapura – Baby I think I love you
( Mixed & Compiled By Dj Kosta )
LINK :
http://www47.zippyshare.com/v/GAFZGmjV/file.html
COVERS + TRACKLIST :
Paolo Monti Megavideo Mashup by STV
Tracklist
001 – Greenday VS Spandau Ballet – Wake me up when september is true
002 – Culture club Vs Michael Jackson-Do you really want to rock my world
003 – Pink Vs Snap & many other – Try the power
004 – Queen vs Bruno Mars – Radio ga ga, just the way You are
005 – BONEY M VS MR. ZIVAGO – TELL BY YOUR SUNNY EYES
006 – Every grooves You face – Police vs Madonna vs Lady Gaga
007 – Kool & the gang – Fresh mega mash up
008 – Call me bailando on the dock of the bay-Spagna Vs Enrique Iglesias Vs O.Redding
009 – Modern talking VS Michael Jackson-Youre my thriller heart
010 – Michael Jackson Vs Sinitta – Smooth Toy Boy
011 – Cascada Vs Avicii – Because the night, wake me up
012 – Whitney Houston Vs Robin Schulz – How will I know that Sun Goes Down
013 – Adele Vs Eddy Huntington – Rolling back in the U.S.S.R.
014 – Oceana – Endless summer – Megamashup by Dj Paolo Monti
015 – Flo Rida – I try – megamashup
016 – The Human League Vs Carly Simon – Dont You want me so vain
017 – Al Corley Vs Ace of Base & many others Cruel summer in square rooms
018 – BONEY M VS LMFAO – Daddy Cool Anthem megamashup
019 – Depeche Mode – Just cant get enough
020 – U2 with or without you MEGA MASHUP
021 – Boney M Vs many – Rasputin MEGA mashup
022 – Haddaway VS John Newman – What is love me again
023 – Pet Shop Boys Vs Paola&Chiara-What I have done to bailar this
024 – Madonna – Dress You up megamashup
Video
ID : 1
Format : MPEG-4 Visual
Format profile : Simple@L3
Format settings, Matrix : Default (H.263)
Codec ID : 20
Duration : 1h 9mn
Bit rate mode : Variable
Bit rate : 4 526 Kbps
Maximum bit rate : 12.8 Mbps
Width : 1 280 pixels
Height : 720 pixels
Display aspect ratio : 16:9
Frame rate mode : Constant
Frame rate : 25.000 fps
Bit depth : 8 bits
Scan type : Progressive
Compression mode : Lossy
Bits/(Pixel*Frame) : 0.196
Stream size : 2.20 GiB (96%)
Audio
ID : 2
Format : AAC
Format/Info : Advanced Audio Codec
Format profile : LC
Codec ID : 40
Duration : 1h 9mn
Bit rate mode : Variable
Bit rate : 192 Kbps
Maximum bit rate : 197 Kbps
Channel(s) : 2 channels
Channel positions : Front: L R
Sampling rate : 48.0 KHz
Compression mode : Lossy
Stream size : 95.5 MiB (4%)
DJ POL465 – DJ's Party 3 (τρίτο ημίωρο)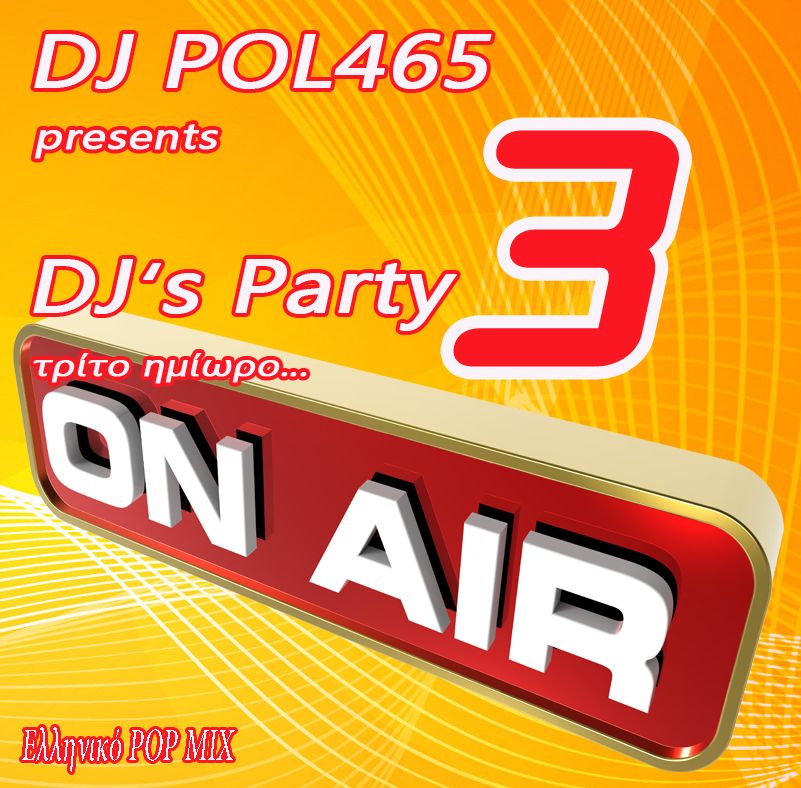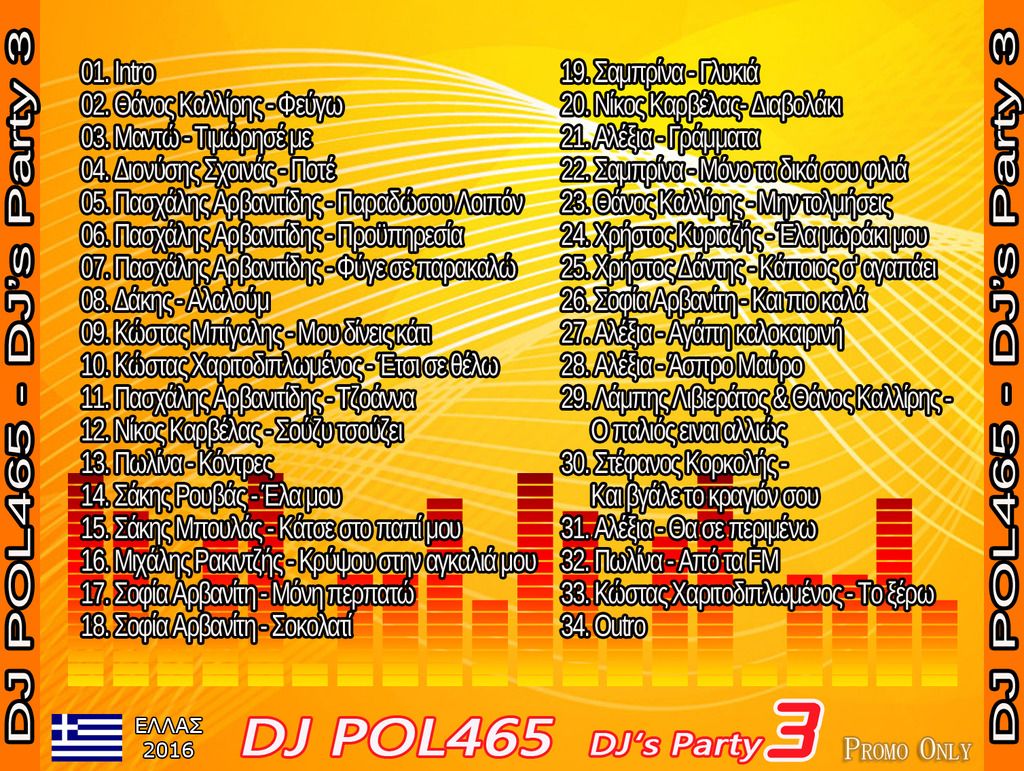 GREEK POP MIX
Tracklist:
01. Intro
02. Θάνος Καλλίρης – Φεύγω
03. Μαντώ – Τιμώρησέ με
04. Διονύσης Σχοινάς – Ποτέ
05. Πασχάλης Αρβανιτίδης – Παραδώσου Λοιπόν
06. Πασχάλης Αρβανιτίδης – Προϋπηρεσία
07. Πασχάλης Αρβανιτίδης – Φύγε σε παρακαλώ
08. Δάκης – Αλαλούμ
09. Κώστας Μπίγαλης – Μου δίνεις κάτι
10. Κώστας Χαριτοδιπλωμένος – Έτσι σε θέλω
11. Πασχάλης – Τζοάννα
12. Νίκος Καρβέλας – Σούζυ τσούζει
13. Πωλίνα – Κόντρες
14. Σάκης Ρουβάς – Έλα μου
15. Σάκης Μπουλάς – Κάτσε Στο Παπί Μου
16. Μιχάλης Ρακιντζής – Κρύψου στην αγκαλιά μου
17. Σοφία Αρβανίτη – Μόνη περπατώ
18. Σοφία Αρβανίτη – Σοκολατί
19. Σαμπρίνα – Γλυκιά
20. Νίκος Καρβέλας- Διαβολάκι
21. Αλέξια – Γράμματα
22. Σαμπρίνα – Μόνο τα δικά σου φιλιά
23. Θάνος Καλλίρης – Μην Τολμήσεις
24. Χρήστος Κυριαζής – Έλα μωράκι μου
25. Χρήστος Δάντης – Κάποιος σ' αγαπάει
26. Σοφία Αρβανίτη – Και πιο καλά
27. Αλέξια – Αγάπη καλοκαιρινή
28. Αλέξια – Άσπρο Μαύρο
29. Λάμπης Λιβιεράτος & Θάνος Καλλίρης – Ο παλιός ειναι αλλιώς
30. Στέφανος Κορκολής – Και βγάλε το κραγιόν σου
31. Αλέξια – Θα σε περιμένω
32. Πωλίνα – Από τα FM
33. Κώστας Χαριτοδιπλωμένος – Το ξέρω
34. Outro

ONE NIGHT IN DISCOTHEQUE ( By Dj Kosta ) VIDEOMIX BY STV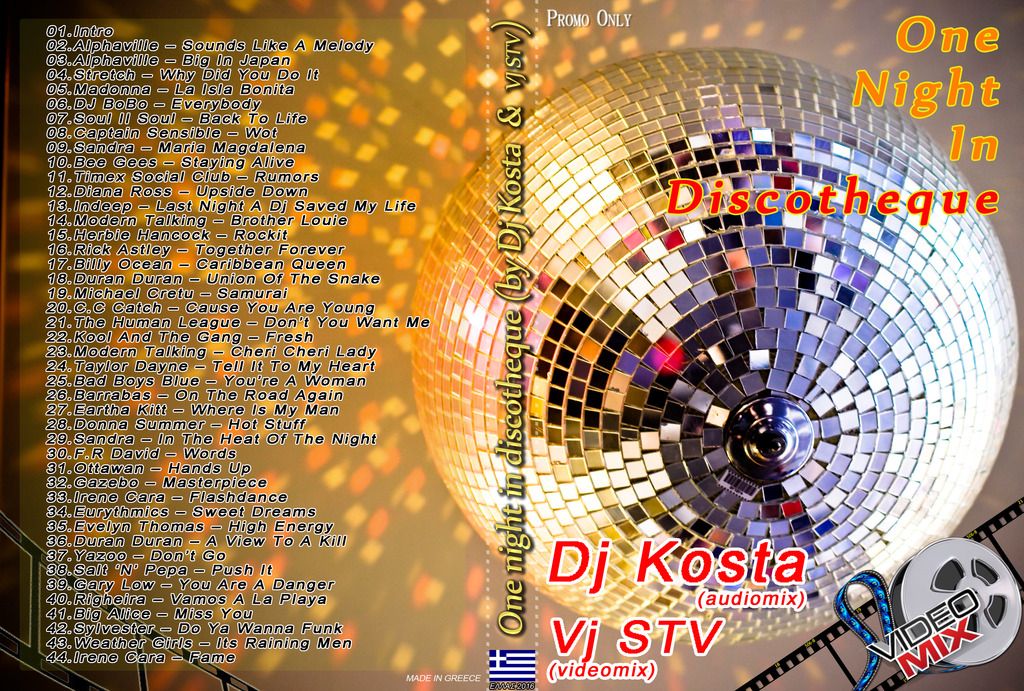 TRACKLIST
01.Intro
02.Alphaville – Sounds Like A Melody
03.Alphaville – Big In Japan
04.Stretch – Why Did You Do It
05.Madonna – La Isla Bonita
06.DJ BoBo – Everybody
07.Soul II Soul – Back To Life
08.Captain Sensible – Wot
09.Sandra – Maria Magdalena
10.Bee Gees – Staying Alive
11.Timex Social Club – Rumors
12.Diana Ross – Upside Down
13.Indeep – Last Night A Dj Saved My Life
14.Modern Talking – Brother Louie
15.Herbie Hancock – Rockit
16.Rick Astley – Together Forever
17.Billy Ocean – Caribbean Queen
18.Duran Duran – Union Of The Snake
19.Michael Cretu – Samurai
20.C.C Catch – Cause You Are Young
21.The Human League – Don't You Want Me
22.Kool And The Gang – Fresh
23.Modern Talking – Cheri Cheri Lady
24.Taylor Dayne – Tell It To My Heart
25.Bad Boys Blue – You're A Woman
26.Barrabas – On The Road Again
27.Eartha Kitt – Where Is My Man
28.Donna Summer – Hot Stuff
29.Sandra – In The Heat Of The Night
30.F.R David – Words
31.Ottawan – Hands Up
32.Gazebo – Masterpiece
33.Irene Cara – Flashdance
34.Eurythmics – Sweet Dreams
35.Evelyn Thomas – High Energy
36.Duran Duran – A View To A Kill
37.Yazoo – Don't Go
38.Salt 'N' Pepa – Push It
39.Gary Low – You Are A Danger
40.Righeira – Vamos A La Playa
41.Big Alice – Miss You
42.Sylvester – Do Ya Wanna Funk
43.Weather Girls – Its Raining Men
44.Irene Cara – Fame
info:
Video
Format : MPEG-4 Visual
Duration : 1h 19mn
Bit rate mode : Variable
Bit rate : 5 337 Kbps
Maximum bit rate : 18.1 Mbps
Width : 1 280 pixels
Height : 720 pixels
Display aspect ratio : 16:9
Frame rate mode : Variable
Frame rate : 25.000 fps
Minimum frame rate : 12.500 fps
Maximum frame rate : 25.000 fps
Color space : YUV
Chroma subsampling : 4:2:0
Bit depth : 8 bits
Scan type : Progressive
Compression mode : Lossy
Bits/(Pixel*Frame) : 0.232
Stream size : 2.98 GiB (96%)
Language : English
Audio
ID : 2
Format : AAC
Format/Info : Advanced Audio Codec
Format profile : LC
Codec ID : 40
Duration : 1h 19mn
Bit rate mode : Variable
Bit rate : 192 Kbps
Maximum bit rate : 202 Kbps
Channel(s) : 2 channels
Channel positions : Front: L R
Sampling rate : 48.0 KHz
Compression mode : Lossy
Stream size : 110 MiB (3%)
Language : English
SUMMER HITMIX 2016 ( By Dj Kosta )
TRACKLIST
01.Enrique Iglesias Feat.Wisin – Duele El Corazon
02.Nick Jonas – Chains
03.Meghan Trainor – No
04.Rihanna – Kiss It Better
05.Sak Noel & Salvi – Trumpets
06.Willy William – Ego
07.Rihanna Feat.Drake – Work
08.Major Lazer & Dj Snake & Mo – Lean On
09.Justin Bieber – Love Yourself
10.Justin Bieber – Sorry
11.Mike Posner – I Took A Pill In Ibiza
12.Drake Feat.Wizkid & Kyla – One Dance
13.AlunaGeorge Feat.Popcaan – I'm In Control
14.The Pussycat Dolls – Buttons
15.Alan Walker – Faded
16.Sia Feat.Sean Paul – Cheap Thrills
17.Eva Simons – Policeman
18.Nicky Jam Feat.Enerique Iglesias – El Perdon
19.50 Cent – P.I.M.P.
20.Major Lazer Feat.Nyla & Fuse ODG – Light It Up
21.Global Deejays & Danny Marquez – T & Denise – Work
22.Enrique Iglesias – Bailando
23.The Breaks ( sample )
24.Justin Timberlake – Can't Stop The Feeling
25.Jason DeRulo – Get Ugly
26.G-Eazy x Bebe Rexha – Me, Myself & I
27.Jonas Blue Feat.Dakota – Fast Car
28.Shawn Mendes,Camila Cabello – I Know What You Did Last Summer
29.Duke Dumont – Ocean Drive
30.DNCE – Cake By The Ocean
31.99 Souls Feat.Destiny's Child & Brandy – The Girls Is Mine
32.Jennifer Lopez – Ain't Your Mama
33.Cheat Codes x Kris Kross Amsterdam – Sex
34.Imany – Don't Be So Shy
35.Croatia Squad, Frey vs Laid Back – White Horse
36.Calvin Harris (Feat.Rihanna) – This Is What You Came For
37.Sigala, John Newman, Nile Rodgers – Give Me Your Love
38.R3hab, Quintino – Freak
39.Fedde Le Grand – Rhythm Of The Night
40.ATC – Around The World
41.Robert Miles – Children
42.Galantis – No Money
43.Tujamo – Drop That Low
44.Coldplay – Adventure Of A Lifetime
45.Martin Garrix – Now That I've Found You

( Mixed & Compiled By Dj Kosta )
LINK :
http://www90.zippyshare.com/v/CHkdlxvZ/file.html
COVERS + TRACKLIST :
http://www37.zippyshare.com/v/hUWw1Fh7/file.html